Importance of Marketplace Reconciliation for Ecommerce Sellers
Ecom merchant businesses, especially small ones, are finding it challenging to be profitable because marketplaces are hiking up the different fees to sell on their platforms.
For the first time, leading marketplace's average cut of each sale surpassed 50% in 2022, according to a study by Marketplace Pulse, which sampled seller transactions going back to 2016.
There are a lot of costs to selling on marketplaces that need to be borne by the seller such as:
Sale commission on each sale (aka Referral fees by Amazon) averages 15%
Warehouse storage fees, packing and logistics may range between 20-35%
Ad fees and promo sales averages 15%
In the case of Amazon, while the commission fees have remained flat, Fulfilment by Amazon (FBA) fees have steadily increased. Amazon has raised fulfilment fees every year and introduced increases in storage fees.
So why are marketplaces hiking fees?
The top Ecom marketplace- Amazon e-commerce's growth in 2022 was nearly flat. That never happened before in its quarter-century as an online retailer. #Amazon has started taking as much as 50% cut of sellers' revenue – up from 40% five years ago. The trend line of marketplaces is nearing the pre-covid ones and the "covid bump" up is no longer holding.
Top Ecom marketplaces were expected to become much bigger due to covid, but they couldn't due to newer competition like Shein or due to poor execution. Also, consumers are going back to offline stores in throngs further thawing the ecommerce growth
Due to the above reasons large marketplaces are hiking fees for selling on their platform
What are the challenges faced by Ecom marketplaces operations teams?
Most Ecom sellers see one or more of these challenges in their reconciliation processes
Comb through documents and e-mails to find relevant payment advices, manually read and interpret payment advices across pdf, xlsx formats
Use spreadsheets to enter invoice data, search for POs, match payment received (VLOOKUP)
Identify, compute and validate deductions such as commissions, hosting fees, etc.
Manual 3-way reconciliation of invoice, bank statement, & payment advice via Excel
Manual entry to input reconciled data from spreadsheets into the ERP
But, in aid of these sellers, using an AI-based Marketplace Reconciliation solution can help sellers streamline their operations. This comes with a lot of added benefits such as
Time saved up to 100% in searching and interpreting payment advices
Time saved up to 100% in categorizing and interpreting payment advices
3-way match for order recon – up to 85% accuracy
Reduction in time spent on ERP posting – up to 90%
What should sellers look for in a Marketplace Reconciliation solution?
A great reconciliation solution will help sellers overcome the above-mentioned challenges. A few core features can include
Validation of data from multiple sources, a configurable and #ML learnt capability
An AI engine that supports an in-built data dictionary with configurable weightage tags for matching data fields
A proprietary scoring algorithm enables matching based on weightage, predefined thresholds and assigning scores
Partial matches and inconsistencies are highlighted for assisted matching with workflows and constant training of an underlying machine learning bed
Outputs can be consumed as APIs, webhooks or custom formatted files exchanged over SFTP, HTTPS, etc.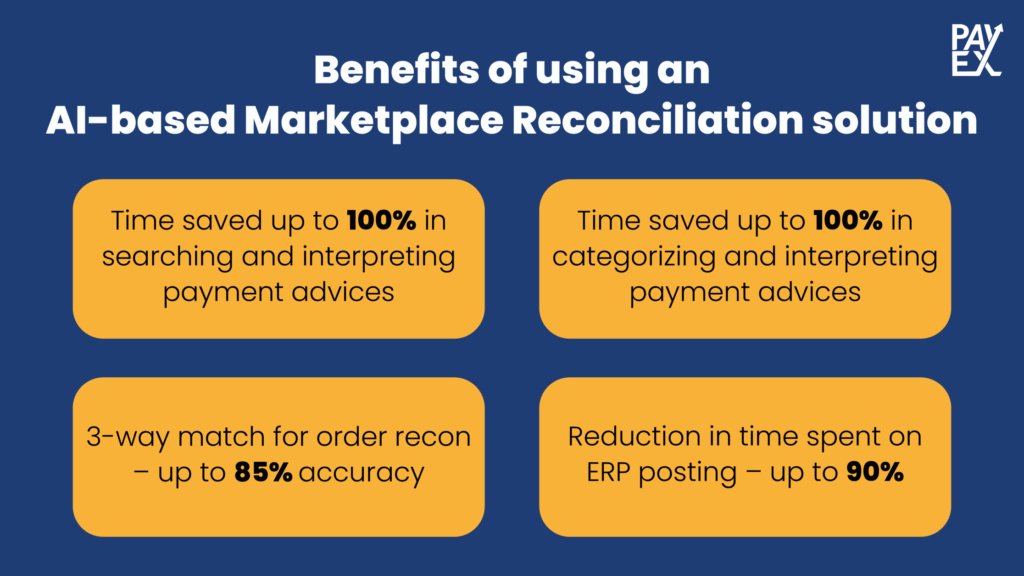 Has any brand really benefitted from using an AI-based Marketplace Reconciliation solution?
Many brands have seen great success using such a solution and have seen increased automation, saved time and efforts as well as automated recon processes.
For Example: A USD 300 mn kitchen appliances and cookware manufacturer
Challenges faced by the brand:
1. High Volume
Drop shipping models that the various #ecommerce platforms offer involve placing back-to-back orders from customers to the seller
This leads to a high number of orders being loaded in the seller's ERP & subsequently raising the individual invoices against the customers
This business model often results in a multi-fold increase in the individual invoices that must be managed by the AR team
2. Deduction Management
eCommerce platforms, as opposed to Modern Trade Retailers, have a plethora of deduction reasons cited in payment advice or settlement documents for their commissions
Each of these commissions must be manually read, interpreted and reconciled appropriately by the AR team
3. Returns & Refunds
For return/refund scenarios, the onus is on the seller to flag off false deductions to the eCommerce platforms, thus it becomes important for the AR team to validate every deduction line item at the earliest
While the actual validation of returns/refunds is a manual task by operations, early identification ensures that the reconciliation tasks are not hindered
4. Commission Transfer Posting
This is a unique process for eCommerce businesses where the commissions claimed are summed up, transferred from AR to AP and knocked off against the commission invoice shared by the platform
As the platforms withhold commissions before seller pay-out, the AR team of the seller must quickly identify, validate and account for the deductions in order to reconcile the commission invoice
Due to the high volume of invoices, this becomes a cumbersome task to accomplish during the intervals between the commission invoicing cycle
5. Manual Reconciliation
Each of the processes described above requires significant manual effort from the AR teams of the seller to complete the reconciliation
Solution:
Automated Payment Advice Extraction: Utilizing RPAs to extract payment advice from the Seller Portals provided by the eCommerce platforms to automatically pull the payment advice or settlement documents
Payment Advice Reader (PAR): Automatically reads the documents from the platform, identifying & interpreting the various deductions mentioned, to prepare for the reconciliation process
Intelligent Fund Allocation (IFA): AI based engine (IFA – intelligence fund allocation) matches the payment & the payment advice against outstanding obligations pulled from the seller's ERP systems. The engine is programmed to learn from recon paths and continuously improve its accuracy
Smart Dashboard: Comprehensive dashboards – successfully reconciled, reconciled with deductions etc. For instances where the IFA is unable to find a match, a dashboard is provided for a user to input how the obligation is resolved (offset with Credit Note, Trade Discounts, Raise Dispute etc.). IFA learns from these inputs and begins automating similar instances after a particular threshold. Thus, continuously improving automation and reducing manual intervention. Return/refund instances are immediately flagged off in the dashboard for manual input from users
Simplified Recon Process: Match the obligations at an invoice level and prepare the reconciliation input for the seller's ERP. PayEX can then post these entries at a sub-GL level, categorizing into invoice-payment knock-off, tax posting & commission posting
Automated Transfer Posting: After consolidating and posting the commissions in the commission GL, re-validating, match & transfer the commissions from AR to AP to prepare for the platform's commission
Author: Sudipta Jash (Senior Vice President- International Growth and Partnerships at Global PayEX)
If you are interested in such a solution that can help your business, please reach out to sales@globalpayex for a live demo.